I had the most amazing musical experience on the first of this month, I went to a little "pop-up" concert by Ingrid Michaelson in Portland (Oregon, for those of you who don't follow my blog :)). I have always thought her a good artist, have always enjoyed her music, thought her voice beautiful... but I have to tell you... there is absolutely no comparison to her live. Watching her interact with her audience, listening to her tell us about her music, catching glimpses into her sweet and warm and funny personality all made me adore her. But the truly spell-bounding moments were when she sang, her voice is so pure, her emotion so real you feel as if you can grasp it in your hands as it winds around your soul. Even singing lighter, more upbeat songs, her voice is so beautiful it just captures you. I cannot for the life of me remember the last evening I enjoyed that way, I was about ten to fifteen feet from her the entire concert and it was incredible.
Every piece was amazing, but the song that pierced me to the quick was "I'm Through." She confided that we were the first group to ever hear it live and told us in her own words what the song meant. She told us it was about trying to move on, going out with someone for the first time after losing someone you loved very deeply. And the new person is really wonderful and ordinarily you might really like them, but you are still too broken over your previous relationship. When she began singing, it was just her on the keyboard, I was overcome by the beauty of the music and her voice... and the sadness. Yet there wasn't just sadness, there was the bitter-sweetness of a relationship that was life changing. There is even a hint of hope, or more correctly, a knowledge that it won't always be so difficult. That moving on will happen, but when you are ready, in your own time. Here are the lyrics, courtesy her official website:
http://www.ingridmichaelson.com/music/songs-lyrics/im-through
I'm Through
I'm going out again tonight
the first time in the longest time
he holds the door and holds my hand
but doesn't feel like you
we laugh at all the people in
the restaurant across from us
he talks a lot but not too much
but doesn't sound like you
it's all because of you that I'm through
it's all because of you that I'm all through
I know there'll come a time again
when everything will fit right in
and I won't have to see your face
in strangers on the street
but I would rather feel the sting
than never to have felt a thing
I'll always know that you were the one
to rip me from the ground
it's all because of you that I'm through
it's all because of you that I'm all through
it's all because of you that I'm through
it's all because of you that I'm all through
I did manage to take a video of her on my ipod at the concert I went to, but the quality is wanting. But I did manage to find another video on youtube of her singing it at the pop-up in Seattle! Here it is:
And now, finally, here is my piece inspired by this incredible song and the lady who performed it: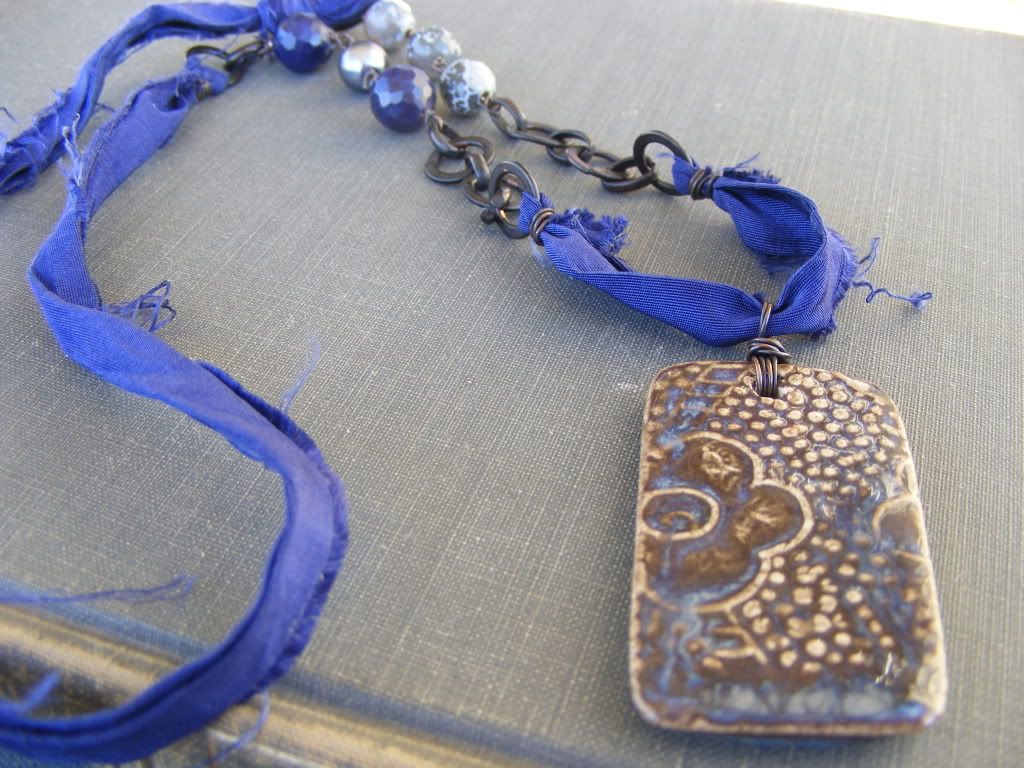 The picture came out brighter than it really is, the sari silk is actually a deep navy blue. I wanted the whole piece to be rich and moody and slightly tattered feeling which is why all of the metal is Fallen Angel Brass. I chose this amazing pendant from Marsha Neal Studio that I have been hoarding, I love the way it's glazed dark and smoky blues, greys, and browns and looks distressed. To me it represents the fact that the love had before was beautiful, as she says, she would have rather had it than not... better to have loved and lost. I used grey fire agate, dark faceted sapphire rounds and a single grey glass pearl. That pearl is that knowledge that someday it won't be as painful, that life can be good again when the time is right.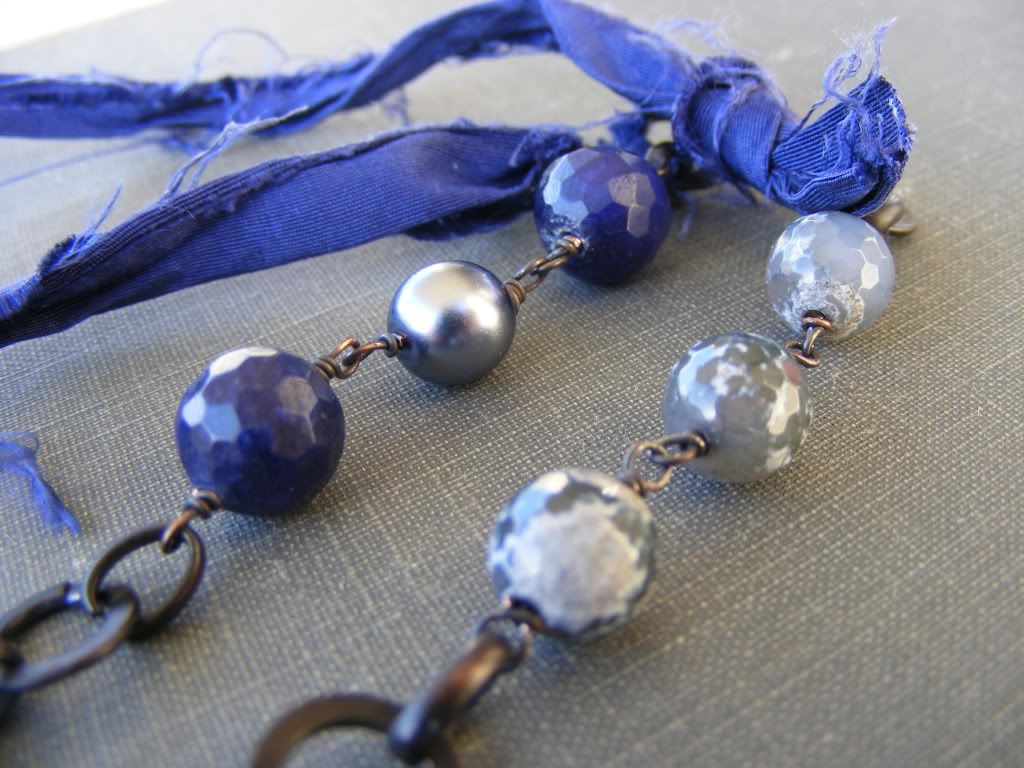 I'm through...
Thank you so much, Erin, for hosting this amazing challenge, I have loved every single moment! I hope you will take the time to visit all of the other participants on this wonderful ride of a challenge!
Music speaks to the soul, don't you think?