I love music. Music has always been such an enormous part of my life. My earliest memories are of dancing with my mom when I was around four years old, to songs like "Billie Jean" by Michael Jackson and "Wake Me Up Before You Go Go" by Wham... My first crush was on the incredible David Bowie as Jareth in the Labyrinth, I blame his voice. Even now I can't help but love that movie... and him ;). I can tell you what I was listening to in order to get through some of the most difficult times in my life... and which songs for some of the most joyful.
I don't discriminate, I love so many kinds of music! And I am always eager to hear new songs and learn about new styles of music, new artists, new songs! I find that, for me, the perfect music always seems to arrive at just the right time. When my Grandma Ruby died freshman year of high school? It was Backstreet Boys, and I am not ashamed to admit it, their harmonies and light melodies kept me feeling light, helped me survive the trip south and staying nights in her house without crying nonstop. When my Great-grandmother Madeline died in 2003, I was in college, I was listening to a mix of Evanescence, OTR (an a capella group based at the UO that I was friends with), John Mayer, and Miles Davis.
Happier moments... singing along to Bing Crosby music on Christmas Eve with my dad... we did it every year he was home. One of my absolute favorite memories. Singing "He Loves Me, He Loves You Not," (ok ok and dancing..) in a group of girlfriends for the school talent show my senior year was nerve wracking, but fun. I can likely name several songs from every dance I went to in middle school and high school, but I won't. One of the ones I remember best was arm in arm in an enormous circle with my fellow classmates at my Senior Prom singing altogether, Vitamin C's "Graduation". First song that was Eli and mine? "Kiss the Rain" by Billie Meyers... our first dance as a married couple was to Louis Armstrong's "A Kiss to Build a Dream On..." I adore that song. First song I sang to Addy as a lullaby? "A Dream is a Wish Your Heart Makes". Julie's favorite band as a baby? Paramore, go figure. Toby loves just about everything, but the kid can't go to sleep without me singing "MacCrimmon's Lament".
There's a wonderful English version of it, that I'm going to have to purchase so I can learn the words better (the version I have is all in Gaelic, which I don't speak, though I wish I did!).
So... what does this have to do with my work? A lot, actually. I listen to music almost constantly, so chances are? A piece I have created was influenced by a song... a lyric... an album... something. One of the latest pieces I did is called "Rose Kissed", I have to admit to being a sucker for Taylor Swift. She is so cute and her songs are just... captivating. Her latest single "Ours" inspired this piece which features the most amazing focal by Diana of
Suburban Girl Studio
: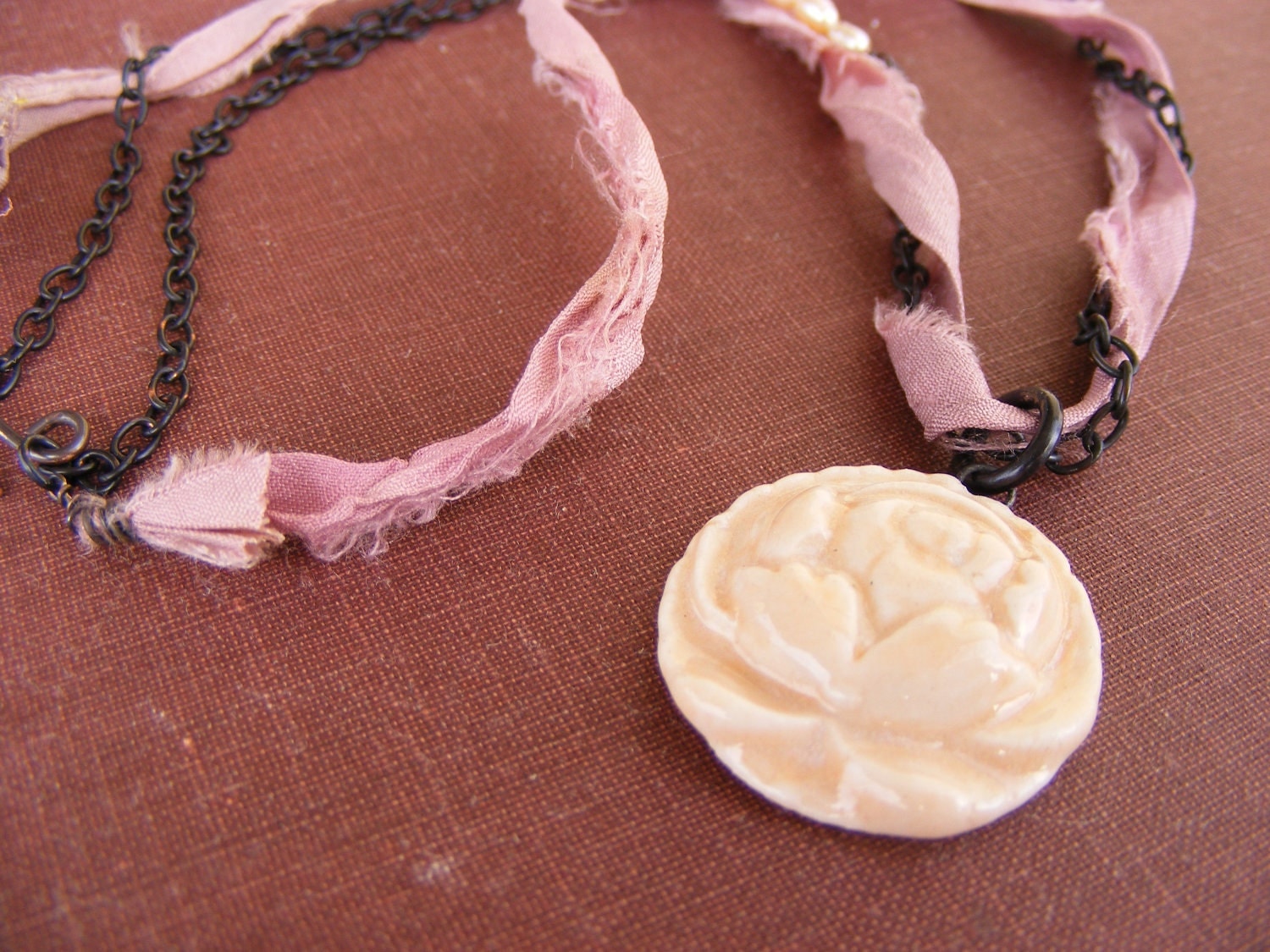 I love the chorus: "Don't you worry your pretty little mind/ people throw rocks at things that shine/ and life makes love work hard/ stakes are high/ the water's rough/ but this love is ours". Plenty of
Fallen Angel Brass
, sweet freshwater pearls, and soft sari silk ribbon from
GoldenOneToo
on Etsy give a sweet, though slightly roughened look to this piece. I love it :).
I think I have been thinking about music like this because Erin's
Challenge of Music
is coming up! I finished my piece and now just need to do my write up :). The piece was both easy and difficult for me, but I think in the end, it turned out just right. I am so excited to show everyone, the reveal is on the 29th. Also, don't forget, the
Bead Soup Party
reveal is on March 3rd. I have been working on that one too and am also excited! I will be having a giveaway on my blog for that one, so don't miss out.
I'm recovering from the worst flu I've had in years, so if this post was a bit scattered... blame it on that ;). I hope you are having a great week!
~Jenn