Welcome to the lovely B'sue's (of B'sue Boutiques) Messy Workshop Blog Hop!
So here it is... time to reveal the disaster that is my workspace... I tend to be in the middle of a dozen projects and ideas at once. Without further ado... here is the best "large" shot I was able to get. My table is in a corner, under a window, so please forgive the bad lighting :)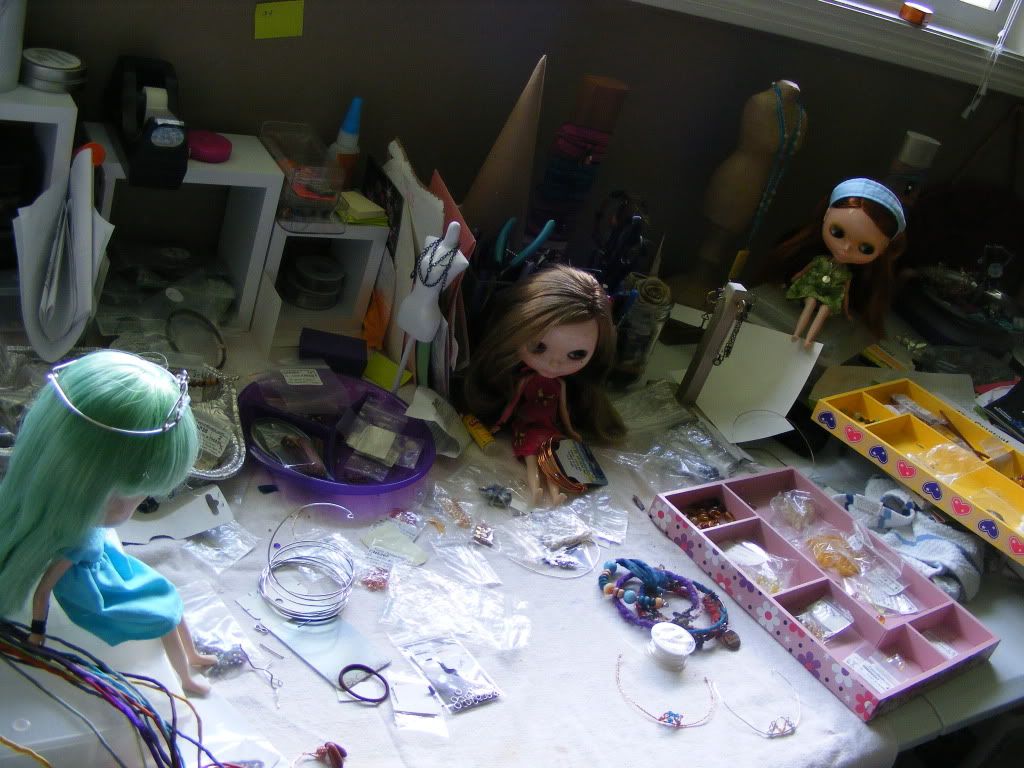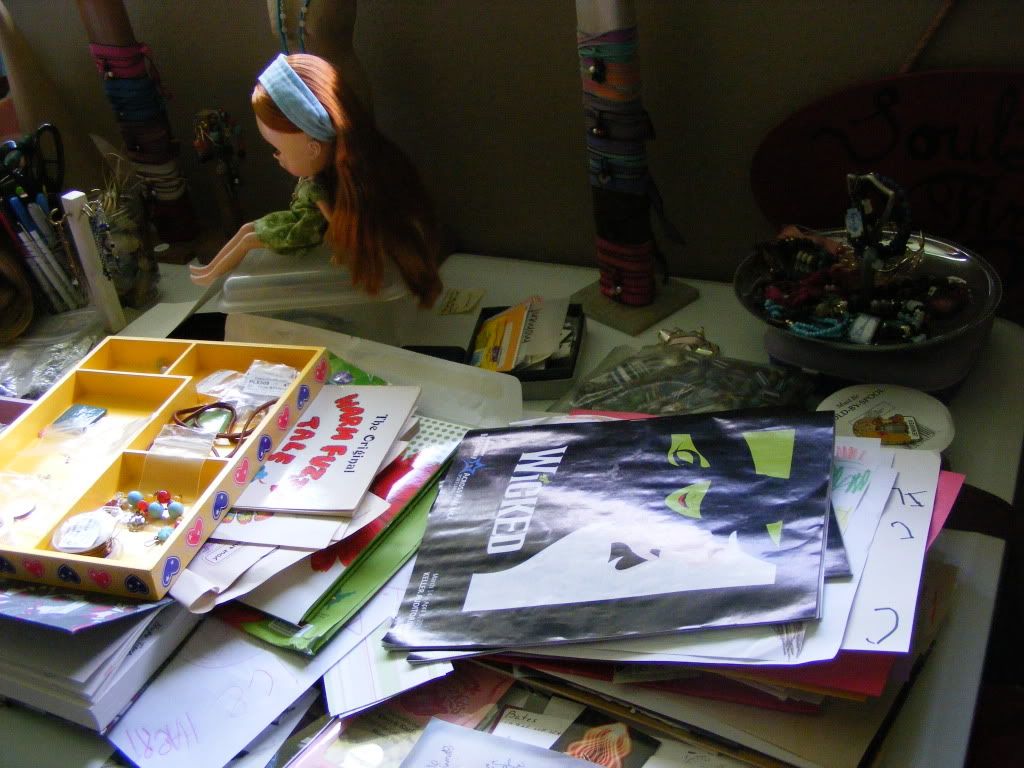 Stacks of papers that have nothing to do with work on one end lol, parts of displays, trays for holding partial projects, a glass vase that is square that I use to hold my tools... three cubbies for holding wire and findings... recycled plastic cases to hold my artisan beads.. As you can see I have a cupcake tin, which holds more in progress projects, or at least bits of projects? I tend to put things together that I intend to get around to finishing someday... and set them aside like that. When I took this shot the current project in the middle of the table was the tiara on Rade's lovely head (Rade is the Blythe to the far left in the picture, Stella in the middle, Janet to the far right). Eli (my husband) calls the Blythes my familiars lol. They are fun and I love having them around.
So what comes out of my creative chaos? I swear it is creative most of the time... here are a few examples:
So there you go! My messy workspace and what comes out of it :) I hope you enjoyed my little bit, now go on... see everyone else's messy worshops! :)
Thank you for stopping by!
~Jennifer
MESSY WORKSHOP BLOG PARTICIPANTS
Brenda Sue Lansdowne
Robin Delargy:
Kim at Cianci Blue
Jennifer Jazwick-Smith
Mary Shannon Hicks
Tracy Swartz
Jacqueline Marchant
Lynnea Perry Bennett
Terry Matusyk
Laurel Steven
Dr. Brassy Steamington
Pamela Takeshige
Kris Lanae Binsfeld
Outre Art
Linzi Alford
Deb Davis
Tamara Jones
Harry Wood
Gerry Nickerson
Elizabeth Owens-Dwy
Georgene Lockwood
Charisa Sloper
Jennifer Justman
Beanzie
Mary Deis
Cheri Reed
Sondra Kolner
Sonya Ingersoll-Stille
Lori Anderson
Sandra McGriff
Shelly Joyce
Joan Williams
Kashmira Patel
Deb Beechy
Ginger Bishop
Kelli Jacobson
Natalie McKenna
Andrew Thornton
Mary Govaars
Kate Mulligan
Lisa Lodge
Tami Luchini
Monique Lula
Lee Koopman
Jayne Capps
Susan Lloyd
Cynthia Wainscott
Stephanie Amanti
Alicia Marinache
Sam Hamp
Lennis Carrier
ENJOY!