If you are looking for my soup post, it is
HERE
I swear they do, really. I love autumn... it is by far my favorite season. The leaves are turning now in front of the school down the street... and when I jog in the mornings I get to watch the progression. First just a hint of color on the edges of the leaves... and day by day it changes... a little at a time. Rather like some things in life... not everything changes in moments, some things are softer, more gradual. Rather like a steady rain or the surf caressing the shore, changing the shape of it year after year, little by little... Yes, that's right, I get all dreamy and musing in the autumn LOL. So watch out, you never know what is coming next! ;)
For now though, I thought I'd share some of my latest creations :) I've been hard at work... and with such lovely materials it has been a true pleasure to work.. then again, when isn't it?
Fallen Angel Brass Co.
has become my new favorite place to go for all things metal... there is something so incredibly appealing about their dark brass. It totally fuels my imagination! They have these angel wings... if you know them, you know what I speak of lol. I've wanted to play with them for ages and finally ordered a set... and when they arrived? And I held them in my hands I had a vision... and my hands started working and a few hours later... this was born :) I named it "Fallen" for it's dark fallen angel appearance... and of course the company who inspired it! Thank you, Karen and Tina, you ladies rock! Their wire just makes me breathless with joy :D Without further ado... "Fallen"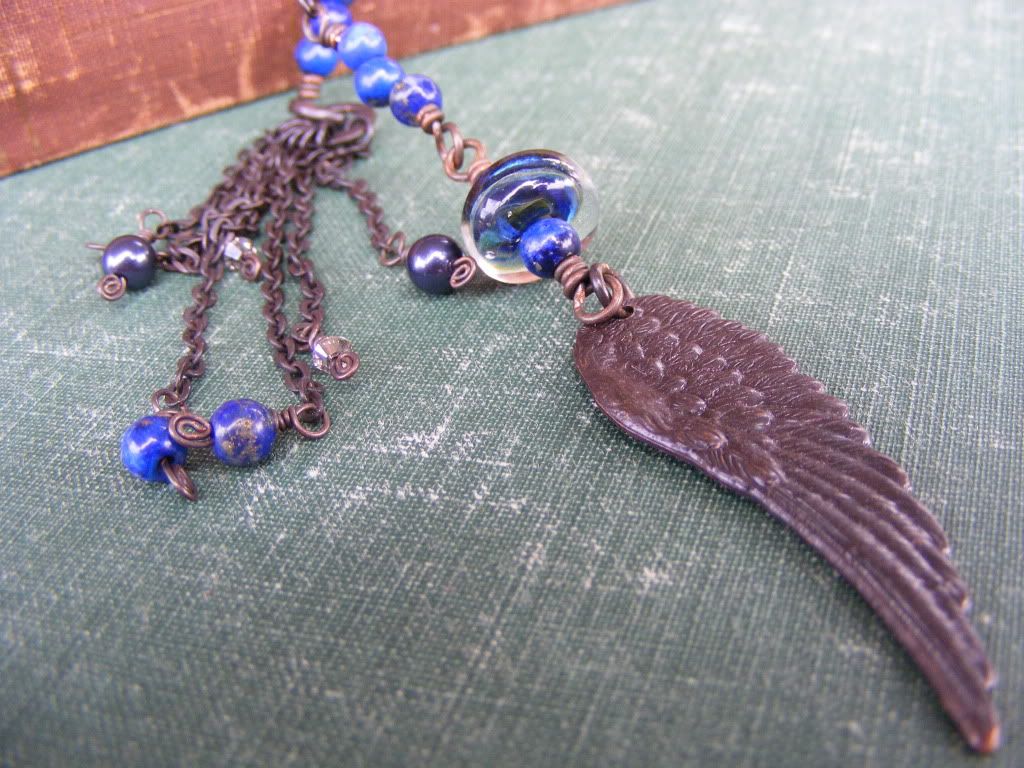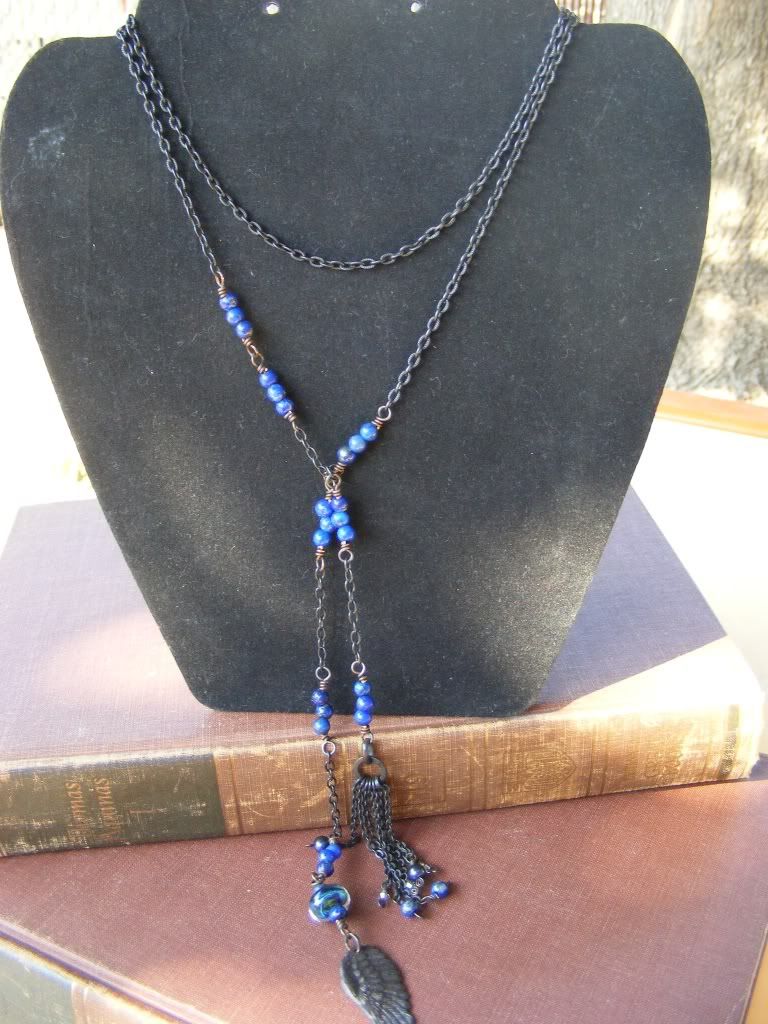 Please excuse the middle pic... I need to get myself a proper lady for displaying :) Anyway... I wire wrapped the lapis and the boro (20 gauge wire from FAB, of course). Three types of chain.... some swarovski crystals and pearls. And you have... a lariat *big cheesy grin* Very proud of myself LOL. I love this piece!
Next up features not only FAB... but also the work of an artist whose work I have admired for quite some time now, Janice of
JLynn Jewels
. She has become a wonderful friend and I am so grateful to her for her advice and daily inspiration, I am so blessed! Anyway, point Jennifer, get to the point! I was sitting here, skimming through Etsy trying to find inspiration.. and saw the most gorgeous tiles she put up in her shop. I usually hem and haw and wait and wait before buying things, worry over costs... not these! I snapped them up within seconds of seeing them! And she sent them out to me quickly too! Angel that she is, because I was so excited!! So here it is, my Wings of Autumn necklace featuring one of her perfect tiles!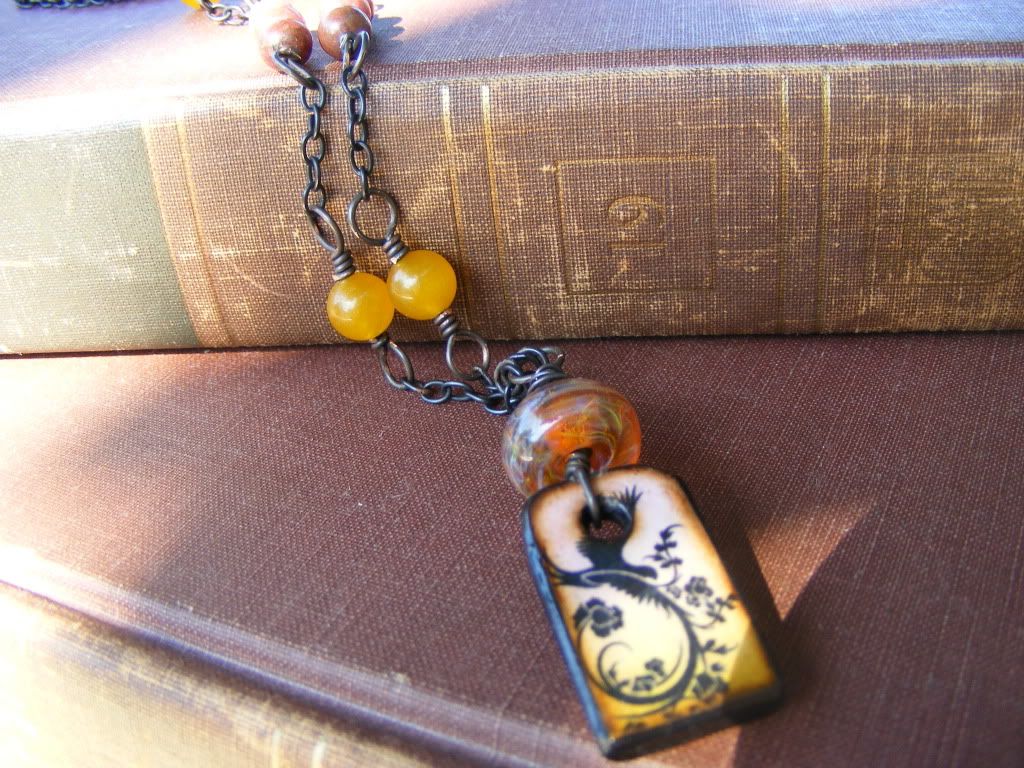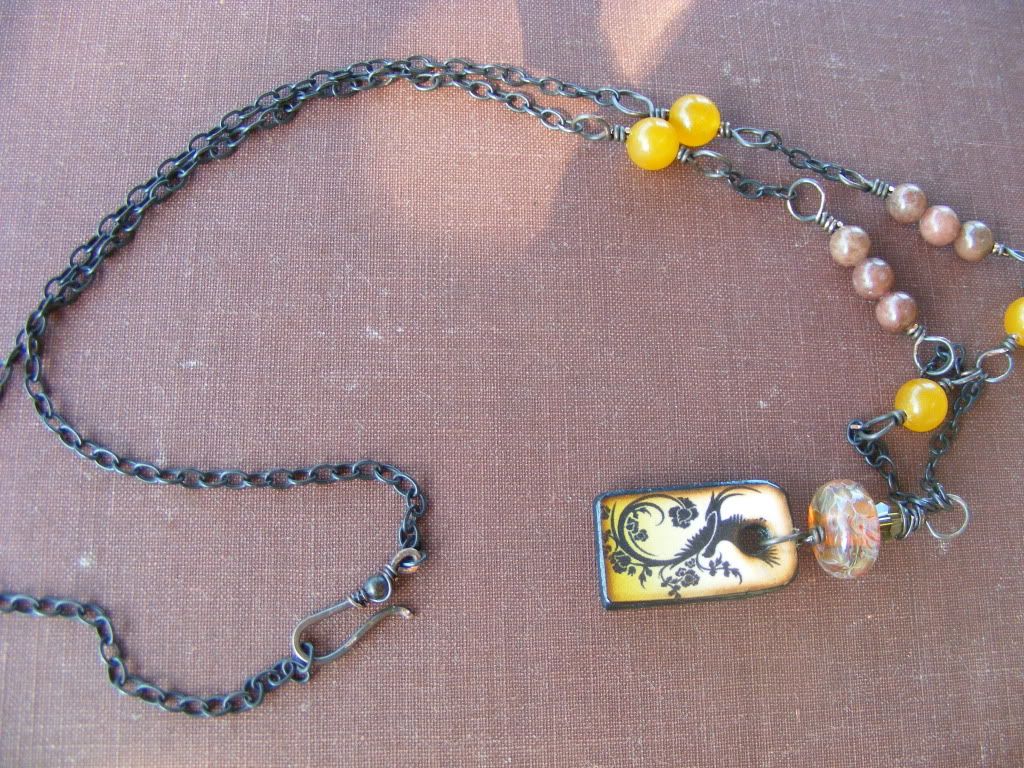 Isn't that tile just stunning? And all of that FAB wire and I made the clasp myself too :) I am growing very proud of my wire work lol. Honey jade and cappuccino jasper just seemed to perfectly capture the colors in the tile. And that boro bead I've had sitting there waiting for the perfect piece for months now! It all just seemed to fall together perfectly :) Click on any of the pics to go to my Etsy site to see other pictures of the pieces. Let me know what you guys think! I have several new wrap bracelets and some amazingly sparkly and dangle-y earrings coming up and into the shop this week! Hope you have a wonderful rest of the week, my dears!
~Jennifer
P.S. Blogs for the ladies mentioned above! Click on their highlighted names above for their shops! Check them out!!
http://fallenangelbrass.blogspot.com/
http://jlynnjewels.blogspot.com/