Are you a coffee person? I totally am. I wasn't always, but now I am not sure I could live without it. I love coffee. I love the way it smells, I love the way it tastes, I love the happy secure feeling I get when I have it. Because it is really just one of those happy spots in my life, drinking a cup of coffee (or four, depending on the day ;) ). I find when I'm starting to feel stressed that making a pot of coffee, letting the scent fill the house, holding the warm mug in my hands... soothes me. Helps me breathe for a minute. And sometimes that minute is something I desperately need, don't we all? What had me thinking of coffee in such a way, you may ask... well, I just finished reading The Peach Keeper by Sarah Addison Allen. There is a character in there named Rachel and she says that the way a person likes their coffee can tell you about them... I don't know about that, but it is definitely an interesting thought, don't you think?
I know, rambling, right? Ok, onto business! :) Today I want to talk about what I've been working on! I made two new bracelets this last week or so and have finally had enough weak sunlight to attempt to photograph them :) They feature the work of two ladies whose work I admire very much :) The first bracelet is called "Autumn Leaves in the Wind" and has the most wonderful cuff style bead by Heather of
Humblebeads
. The blues and browns in it are just so perfect for autumn and I love the oak leaves, so pretty, they just looked like they were blowing in the wind, thus the name :). I kept it simple featuring more of that amazing
Fallen Angel Brass Co.
brass... chain, wire, and headpins. Can't get enough of their metal! Anyway... here it is!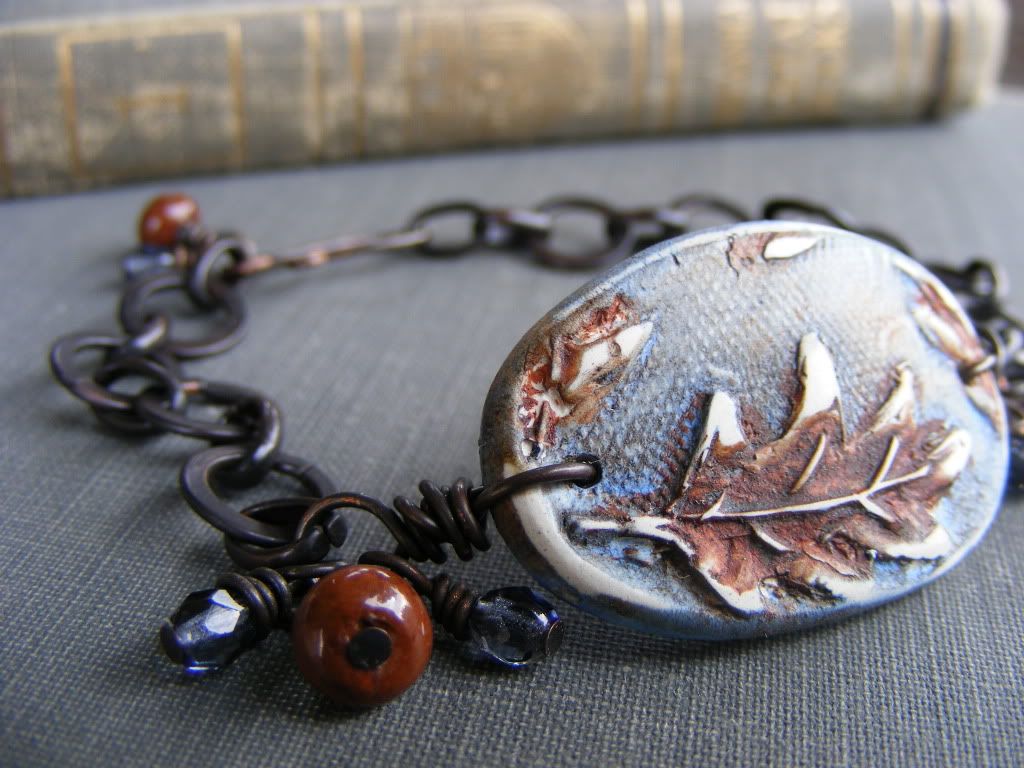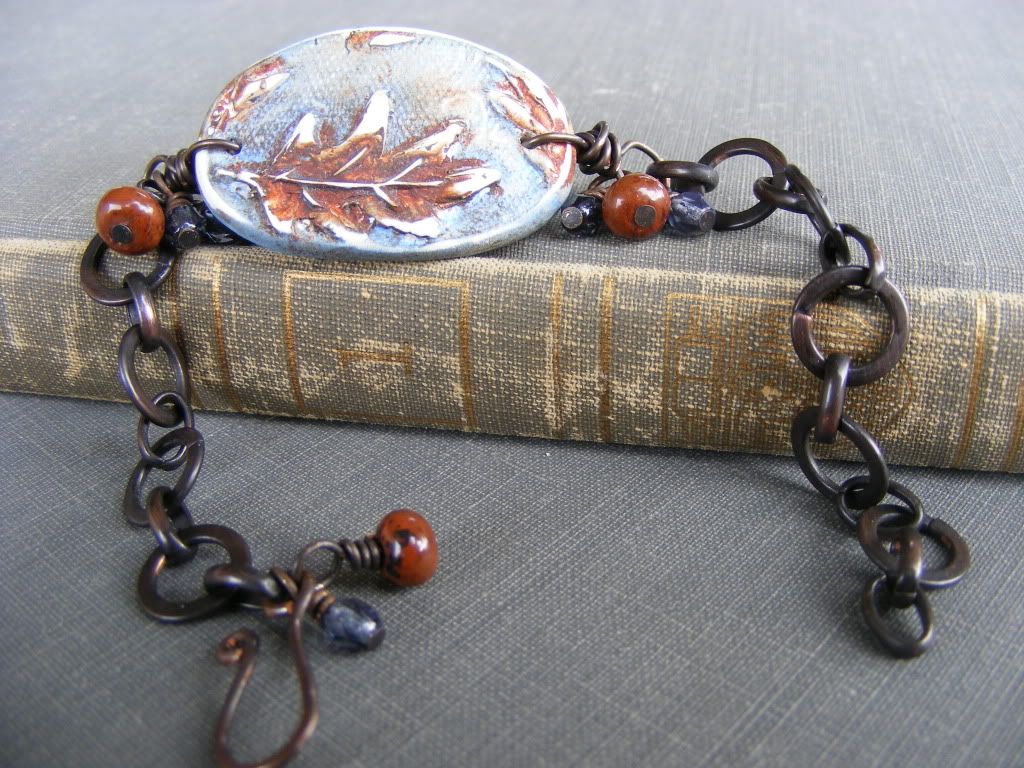 What do you think? :)
The second piece that I'm really excited about is a bracelet featuring a focal by the wonderful Marie of
Skye Jewels
. I have a bit of an obsession with the Eiffel Tower (and Paris in general) and anything London related. I just think they seem like such beautiful and amazing things and hope someday to see them in person... until then I will just have to create jewelry inspired by them :) Marie made this lovely tile with a stunning layered image of the Eiffel Tower and the London Eye... it's so dreamy, so romantic... and I tried to keep that feel by wrapping it in a gorgeous filigree from (you guessed it!) Fallen Angel Brass Co. I used this amazing creamy green jasper and soft lavender cape amethyst that almost glows in some lights. After I made the clasp I wrapped it in a finer gauge wire with lavender seed beads and then added a few sparkling swarovski crystals... Oh here, you have to see it LOL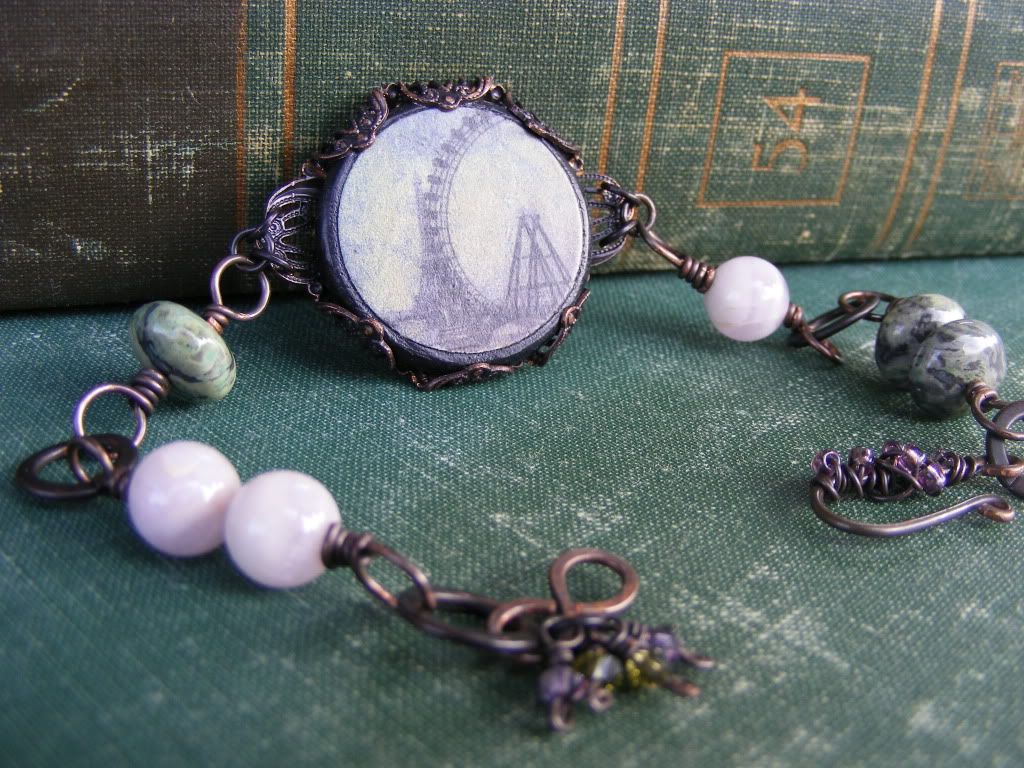 Well? What do you think? :) I'm pretty excited about them. Getting to use such amazing materials by such talented ladies is a true pleasure! If you click on their names above you'll be taken to their fabulous shops!
~Jennifer
P.S. Come back tomorrow for the Sari Blog Hop Reveal!!!